Heating Service, Repair & Installation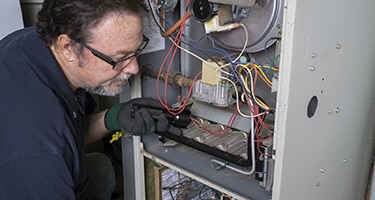 When your home's heating system fails, it can be inconvenient and even dangerous. That's why it's important to have your unit serviced periodically, and when problems arise, to rely on the expertise of a qualified professional.
With our 24-hour emergency service, you can rely on service when you need it. We can help address a wide range of problems affecting your furnace, heat pump or boiler and help uncover potential hazards, such as carbon monoxide gas leaks.
If repairs aren't possible or your system simply needs an upgrade, we also offer complete installation services. A quality heating system begins with a professional design that makes your home comfortable using equipment that operates as efficiently as possible to manage your energy costs.
Our technicians use a computerized analysis to determine how much heating capacity your new system should provide. This calculation takes into account the size of your home, its insulation, the number of windows and their sizes, and more. We'll also assess your duct work to ensure it is in good condition and compatible with the new system, as well as your return grills and registers, which also play a role in your home's thermal comfort by properly distributing airflow.