Air Conditioning Service, Repair & Installation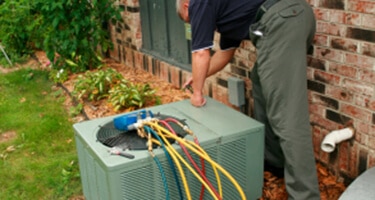 During the peak of a humid Missouri summer, a fully functioning air conditioning unit is vital to your comfort at home. When your system runs around the clock or when you just can't get that indoor temperature right, it may be time to service or replace your system.
Our skilled technicians bring years of experience to help troubleshoot your unit and determine whether repairs or a new unit is the most cost-effective solution in the long run. In some cases, a single part replacement or adjustment can do the trick. Other times, we can help you weigh the cost of ongoing service calls against the expense of a new unit, and we'll explain the financing options that may be helpful.
We can also introduce you to ideas that can help your air conditioning system work more efficiently. Programmable thermostats, zoned heating and cooling systems, and humidifiers and air filtration systems are all ways to manage your climate and air quality without a complete system replacement.